FINANCIAL SERVICES & INVESTMENTS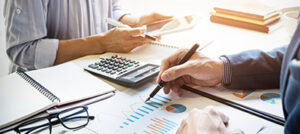 With increasingly complex and unpredictable financial markets and longer life expectancy, working with an investment professional is more important than ever. With such an overwhelming number of investment options, one of the most important decisions you can make is to seek the advice of a trusted, qualified adviser backed by qualified financial resources so that your needs always come first.
Kondler & Associates works with a financial advisory firm that has access to independent research, state-of-the art technology, innovative investment tools, and exceptional support, an individual investment plan can be created to meet the needs of each client.
Whether you're just starting out or preparing for retirement, you can expect:
Your needs come first — Your financial adviser will engage you in an ongoing conversation about your needs, goals, and objectives to create the financial plan that's right for you.
Objective guidance and advice — With access to leading independent research, your financial adviser can help you make informed, objective decisions.
Investment choice and flexibility — Your financial adviser will not offer any proprietary products, so your adviser can help you choose unbiased investment solutions from many of the nation's leading investment managers.
Convenient account access — You can manage your account online anytime, day or night, from the convenience of your own home or office. In addition, easy-to-read account statements keep you informed of account activity and performance.